Learn to Know & Understand Your Numbers Before You Buy a House at Due Diligence Workshop
Posted on February 20, 2019 by
Sat, March 16th in Tampa, FL
Tampa REIA Presents the BRAND NEW:
Due Diligence Workshop
For Busy Real Estate Investors Who
Want to Know & Understand the Numbers When Making Deals Happen!
Sat, March 16th from 9AM – 7PM
*2-for-1 Early Registration Special for Members Only. Register Now!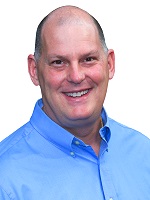 When it comes to running a profitable real estate investing business, it's all about knowing your numbers. If you're off on your numbers, you may barely break even on a deal or even worse… lose big time!
You've probably heard the saying… "You make your money when you buy". This means YOU MUST KNOW YOUR NUMBERS BEFORE YOU BUY!
So when it comes to knowing your numbers…
Do you know how to really determine if you are buying a good deal or not?
Do you know if you're paying too much?
Do you know how much profit you're going to make?
Do you know how to do all your due diligence before you buy and what to look for?
Do you know how to accurately determine the AS-IS value of an ugly house?
Do you know After Repair Value (ARV) of a property for a buy and hold vs a fix and flip (or a high end rehab vs a low end rehab)?
Do you know how to accurately determine repairs and estimate repair costs before you buy?
Are you totally comfortable using the numbers your buyer or sellers give you when working a deal?
Do you know how to quickly run the numbers like a pro?
Do you know the other types of due diligence you must do before you ever close on a deal?
If you answered "NO" to any of these questions, unfortunately you may be going to a real life, expensive, school of hard knocks seminar very soon if your not extremely careful!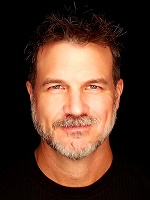 Instead of learning these valuable due diligence skills the hard and expensive way, be sure to attend the upcoming, highly affordable, ALL NEW, Due Diligence Workshop with Don DeRosa & Dustin Griffin on Saturday, March 16th, 2019 from 9AM to 7PM at the Doubletree Suites located at 3050 North Rocky Point Dr West in Tampa, FL.
At this Workshop, You will Learn:
How to become a transaction engineer
How to determine the different types of property values
Using different property valuation models
Reliable sources of "comparable" information data
How to find and run comparables
How to decide which comparables to use and which to ignore
How to be a problem solver to create win-win deals for everyone
How to take a lead and come up with multiple ways to structure the deal
How to use your computer or mobile device to do your due diligence
How to use state of the art tools to do all your negotiating for you
How to overcome all seller objections when buying a house
How to know the differences with a property's rental income and it's value
Determining how much an investor should pay for a property
Identifying the target market (buyers) for the property
How to utilize public and near public information
How to inspect the property
How to determine what kinds of repairs are needed based on your exit strategy
How to estimate the costs of repairs based on your exit strategy
How to determine if a lead is a deal or no deal
Checking title and solving title flaws
Pitfalls to Avoid
All this, answers to your questions & so much more!
Sign Up Today and make 2019 your most profitable year ever in real estate investing by knowing how to run your numbers and how to buy right! REGISTER NOW!
*2-for-1 Early Registration Special for Members Only. Register Now!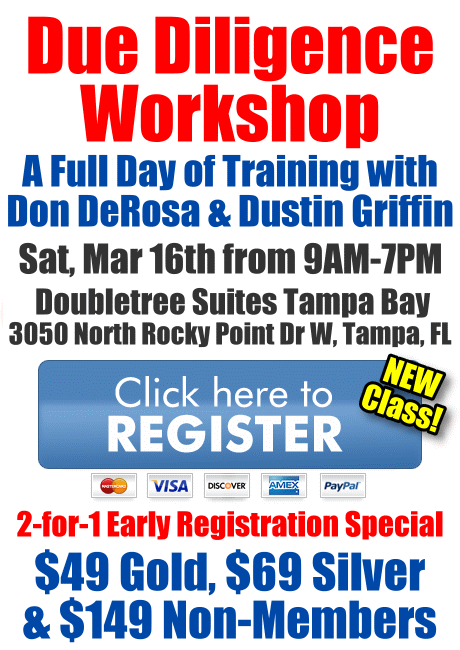 *PLEASE NOTE: The 2-for-1 Early Registration Special is for Tampa REIA Members Only and expires on March 14th at Midnight. The 2-for-1 Special is for Tampa REIA Member's spouses, parents or adult children only who are also Tampa REIA Members. If you are not already of member to Tampa REIA, you can join at https://tampareia.com/membership.
REGISTER NOW WHILE SEATS ARE AVAILABLE for the workshop and join us at the event! Be sure to bring a light jacket, pen and paper for taking notes, and your computer and/or mobile device.
Don DeRosa is a real estate investor, author, teacher, coach and national speaker. Don has trained thousands of new and experienced investors to build wealth in real estate using the same techniques that helped him build his fortune, particularly buying with owner financing, using private money, creatively structuring deals and selling quickly in any market.
Dustin Griffin is a real estate investor, REIA leader, coach, website developer and marketing enthusiast, who like Don, enjoys teaching his fellow real estate investors how to succeed in real estate investing by using the latest strategies, tactics and tools.