Learn to Rehab Houses for Big Checks with Robyn Thompson on March 23, 2019
Posted on February 20, 2019 by
Sat, Mar 23rd in Tampa, FL
Robyn Thompson's Rehab Workshop Just Got Even Better!
VACATION RENTAL BONUS SESSION JUST ANNOUNCED!!!
Learn How to Turn Foreclosures, Estate Sales and Unwanted Houses into Fast Cash!
A Full Day Rehab Workshop &


Vacation Rental Bonus Session

with
Robyn Thompson the "Rehab Queen"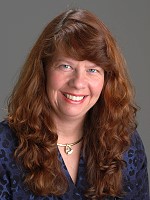 Robyn Thompson is the nation's leading expert on buying properties at deep discounts, renovating them at lightning speed and selling them quickly for huge chunks of cash.
Robyn has shared her knowledge with thousands of real estate investors. She is coming to Tampa Florida for a full day Rehabbing Workshop to teach cutting edge strategies that will produce huge profits in today's market on Saturday, March 23rd from 9AM to 8PM at the Doubletree Suites, 3050 North Rocky Point Dr West in Tampa, FL.
Robyn has rehabbed over 390 properties in her 20+ years of investing and the majority of her profits were made on properties that were in a depressed market.
At the full day workshop, she will instruct you on…
Her Buying Machine
Where to Find Properties to Rehab for Huge Profit
The 9 Types of Houses to Never Buy
The Rehab Process
Locating and Hiring the Best Contractors to Get the Job Done
Prescreening & Controlling The 8 Contractors on A Dream Team
The Magic Buying Formula to Ensure Huge Profits
The 21 Critical "WOW" Factors to Make the Home Sell
8 Marketing Strategies to Attract "A" Credit Buyers
How to Prescreen Buyers in 4 Minutes to Make Sure They Qualify for a Loan
As you can see this will be a knowledge packed day full of excitement and education. We look forward to seeing you at this great event on Saturday, March 23rd. Register Now!
BONUS SESSION on Vacation Rental Business!
Now for the HUGE BONUS for you! Robyn has been doing extremely well with her 7 vacation rentals. We asked her to stay late and do a 2.5 hour training from 5:30PM to 8:00PM about vacation rentals such as VRBO, Homeaway, AirBnB, etc and she agreed! She will be teaching you how she has made $118,753 since the beginning of January 2019 from nightly Vacation Rentals.
She will teach you…
Where the best place is to buy them
How to furnish them
How to get them booked by using your phone
The marketing strategies to get them booked more than your competition
How to find a great cleaning team so you won't have to do touch the properties
And much more!
The amazing thing with vacation rentals is they make 3 times the cash flow of a monthly rental.
To get signed up below for this all day workshop on Saturday March 23rd, 2019 for only $19 to $69 per person depending on your Tampa REIA Membership status.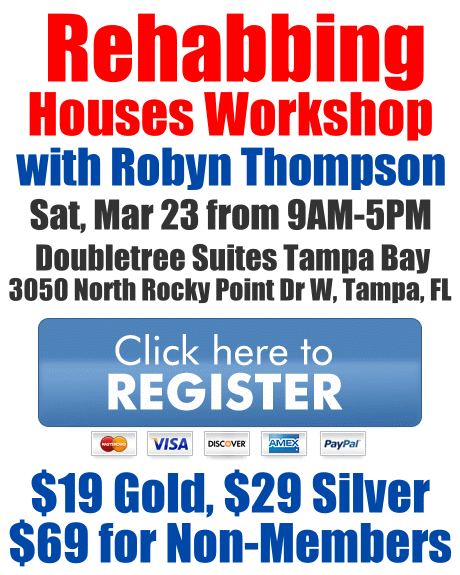 *PLEASE NOTE: Tuition price will increase and will be per person after Early Registration Expires. Register now and save!