Passive Income Course on April 13-15, 2018 in Atlanta, GA
Posted on February 21, 2018 by
Fri, Sat & Sun, April 13th – 15th @ 8:30AM – Atlanta, GA
Passive Income Course
3-Day Workshop for Real Estate Investors
Learn To Structure Deals For Passive Income Like the Top 1% of Investors
Avoid Key Mistakes & Lower Your Risk!
Join us for a Special 3-Day, Hands-On, Passive Income Workshop Where You'll Learn…
A proven way to generate cash flow from any investment method.
How to structure your real estate investments to minimize risk and maximize upside.
How to quantify risk and return, and how to adjust both metrics to make deals work for you.
What key mistakes to avoid in order to earn a consistent and dependable monthly income.
How to live a dream lifestyle with less work, less stress, more money and more freedom!
Special Offer,
Register Today!
Regular Price: $1,497
REIA Members: $397
Non-Members: $797
Register Before Seats Are Gone!
This is a special opportunity for Tampa REIA, Atlanta REIA, Charlotte REIA, Chattanooga REIA and Savannah REIA Investors. Seating is very limited and will fill up fast.
Learn The Closely Guarded Strategies Of The Top 1% Of Passive Income Investors!
Yes, there is a secret way to wealth. At this event you'll discover what most will never know about creating passive income.
This is your opportunity to gain the strategies, skills, resources, and tools for building passive monthly cash flow into your business. Follow this formula to create a fortress around your family's financial future today… and for years to come!
Who Is This For?
New and experienced Investors looking for passive income.If you want to finally build confidence when raising capital, structuring deals, minimizing financial risk, and gaining access to the secret tools the top 1% of investors use in putting passive income deals together; then this LIVE course is for YOU.
What Will You Learn?
Structure deals like the best of the best investors
Maximize return and more importantly minimize financial risk
Use these skills for ANY income-producing asset; not just real estate
Why most investors lost their shirts in 2008; and how you would NEVER make those mistakes
How to measure and control financial risk
How to present deals to your money partners and blow their minds with your sophistication
The exact step-by-step blueprint to capital structures for income-producing assets
What Are Others Saying?
Seating is VERY Limited! Register Today!
This training is presented by Paul Rossano, who has been involved in real estate for the past 19 years. He has bought and sold dozens of properties and has been involved in hundreds of transactions on both the residential and commercial side of the business as both an investor and a broker. Paul is now a lead trainer for Fynanc, a company created by George Antone. Paul's mission is to share his vast knowledge and experience with others to help them achieve the level of success and freedom they desire and deserve.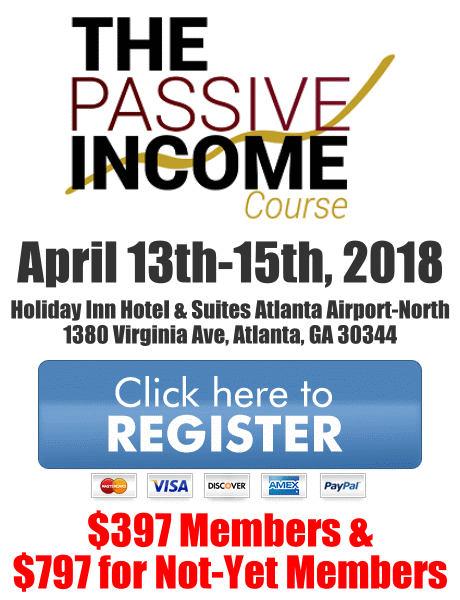 *PLEASE NOTE: Seating for this event is limited and will fill up quickly. Date, Time & Location are subject to change. Due to the advanced nature of this training, nobody will be admitted to the event after it begins, so please be on time!
Important Info for those who register for the Passive Income Course:
Date & Time:
Friday, April 13th – Registration 8:00am to 8:30am; Workshop 8:30am to 5:00pm
Saturday, April 14th – Registration 8:00am to 8:30am; Workshop 8:30am to 5:00pm
Sunday, April 15th – 8:30am to 5:00pm
Location: TBD
WARNING: DUE TO THE ADVANCED NATURE OF THIS TRAINING NOBODY WILL BE ADMITTED AFTER IT BEGINS, SO PLEASE BE ON TIME!
Here's what you need to bring:
Fully charged laptop
Light jacket
Business cards