Selling Houses FAST with Creative Seller Financing Online Workshop with Don DeRosa
Posted on June 1, 2020 by
Sat, June 20th – Online Workshop
Selling Houses FAST with
Creative Seller Financing
in a Declining Market
A Full Day Real Estate Investor Online Workshop
with Don DeRosa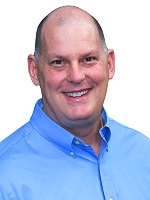 Ok folks, times are changing fast. With 40+ million people out of work it is only a matter of time before the market slows down considerably and houses will sit longer. Prices will begin to drop and investors will be looking at alternative ways to sell houses when the traditional way begins to diminish. With these changes brings new opportunities for everyone that knows how to recognize them.
Although we are not in a full blown buyers' market yet, history tells us that it is inevitable. So, it is important to learn how to sell houses a more non-traditional way to maximize profits and minimize risk.
The days of putting lipstick on your rehab and selling it for full price in a matter of days is fading fast. The best time to learn how to sell "other creative ways" is before you actually need it. So, I am dusting off and beefing up some tried and true techniques that everyone needs to learn how to utilize, but haven't been using much, before you actually need them.
If you are someone that likes to be ahead of the curve and wants to be able to capitalize on the inevitable declining market, then this full day Selling Houses Fast with Creative Seller Financing in a Declining Market Online Workshop is a must for you to attend.
At the event, I will teach you…
What are the 9 reasons houses don't sell so you can avoid them
How to sell houses without using realtors
How to owner finance, lease purchase or rent properties for max profits
How to add 20% more profit to every deal and sell it in days not weeks
What you need to do to get your house ready to sell in a declining market
How to market your property for maximum exposure when everything else is sitting
How to renovate in a stale or declining market
How to automate your selling process
Why staging is a complete game changer and what it NEEDS to look like
How to work with mortgage brokers
How to prescreen you buyer
How to negotiate the sale without an agent
How to choose the right exit strategy for maximum profit
Answers to your questions and much more!
Join me on June 20, 2020 from 9AM – 5PM at the Selling Houses Fast with Creative Seller Financing in a Declining Market Online Workshop and I will teach you how to make money selling houses in any market… up or down, hot or cold, good or bad! Remember, you make your money when you buy, but you get paid when you sell… so join me to learn how to get paid fast! REGISTER NOW!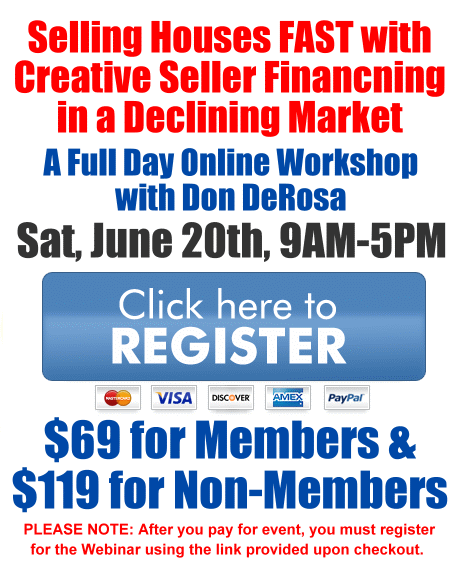 *PLEASE NOTE: Tuition price will increase and will be per person after Early Registration Expires. Register Now & Save!