The Real Estate Game Changer Event in Atlanta, GA on Nov 16th – 18th, 2012
Posted on November 1, 2012 by
Now Is Your Time To Make A Fortune In Real Estate!
The Real Estate Game Changer Event
We would like to invite you to join us in Atlanta, Georgia in November to learn how you can take your real estate business to the next level and beyond. "The Real Estate Game Changer Event" will blow you away on how easy it is to make fast money and long-term financial security for you and your family.
You need to attend this powerful event in Atlanta on November 16th – 18th at the Crowne Plaza Ravinia Hotel located at 4355 Ashford Dunwoody Rd in Atlanta, GA. The tuition for this 3 day event is Only $29.95 for the first person and only $10 extra to add a spouse, significant other, parent or child. Registration starts at 8:00 AM on Friday, November 16th and the event begins at 8:30 AM.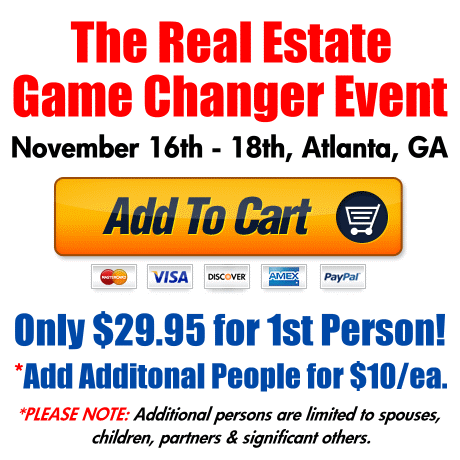 The speakers and education presented at this event are top notch. We've invited several of the best and most successful trainers in their chosen fields to teach you how to put your real estate business on the fast track to financial freedom. The trainers include Robert Shemin, Dr. Albert Lowry, Chris Johnson, Andrew Cordle, Chris Bowser, Duncan Wierman and Dustin Griffin.

We'll show you step-by-step how to make huge profits fast using the Internet as well as powerful new real estate investing techniques and strategies you've probably never heard of before. Just one strategy learned at this event could make you an extra $10,000 in the next 30 days!
Attending The Real Estate Game Changer Event is the best thing you can do for yourself! You are going to learn cutting-edge real estate investing and marketing techniques. The strategies you learn at this event will give you the tools you need to go out and make more money with far less effort!
Other investors are making a fortune using the powerful marketing and investing strategies and techniques that will be revealed at this event. This is your opportunity to do the same thing and dominate your market right in your very own backyard!
There are many ways to make money in real estate, and there will be something for everyone at the event, so REGISTER NOW for only $29.95 and come join us and many other like-minded real estate investors and entrepreneurs at this life changing event.
Here is a just a taste of what you will learn:
DAY ONE – 8:00 AM to 6:00 PM

How to set up and leverage a real estate investing system
How to set yourself apart from the pack and build your "brand"
How to find huge amounts of great deals using the internet
How to build a massive "hungry buyers" list
How to find and manage virtual assistants for $3 an hour
How to put Facebook, Linkedin, Youtube, and Twitter to work for you
How to set up a VA training system.
How to run your entire business for less than $500 a month
Learn the work processes of automated virtual investing
Networking Party
DAY TWO – 8:00 AM to 5:00 PM
Learn how to consistently purchase real estate below market value
Learn how to identify the right type of property for your preferred investment model
Learn about the best ways to buy discount properties today
Learn how to create a consistent monthly cash flow of an extra $1,200.00 – $7,800.00 per month
How to wholesale and quickly flip real estate properties without using a dime of your own money or credit
How you can build your entire career in real estate just wholesaling deals and get big 6 or 7 figure paydays
DAY THREE – 8:00 AM to 4:00 PM

How to Buy at Bargains at Government Auctions
How to Get Low Interest Loans & Grants
How to Find and Buy Bargain Properties at Super Low Prices
How to locate these bargain properties
How to buy properties RIGHT at Low prices
3 Things Every Investor Should Know
How to Live in Your Own Home FREE of payments for 2 years
Strategies behind winning offers and contracts
Creative tricks for buying with no money down
Check out a few of our expert speakers at the Real Estate Game Changer Event:

Robert Shemin is the nation's leading expert on building massive wealth from buying and holding properties long term. Robert is the author of the bestselling books Unlimited Riches: Making Your Fortune in Real Estate, Secrets of a Millionaire Real Estate Investor and Secrets of a Millionaire Landlord. Consistently voted number as a "Number One" speaker, Shemin shares his wealth of information and enthusiasm for teaching others how to be successful. Read More >>

Dr. Albert Lowry has been America's premiere authority on real estate investing for over 30 years. The majority of all instructors in the real estate seminar industry are the product of The Albert Lowry Real Estate Investing Course such as Carlton Sheets, Russ Whitney, Robert Kiyosaki, Robert Allen, Ron LeGrand, Wright Thurston and Robert Shemin. To date, more than 350,000 men and women have taken his courses and thousands of people have used his books to become financially independent. Read More >>

Chris Johnson is known as America's Top Educator teaching people how to find and obtain the Grant Funding and unlock this "money vault" so people can receive the funding they need to finance real estate deals, start or improve a business or send their kids to the top colleges and universities around the country all paid for by the Government. With million's of people getting Government money, it's about time you looked into unlocking this gigantic money vault for yourself. Read More >>

Andrew Cordle buys, rehabs, and sells properties to raise capital to purchase "cashflow" producing properties. After Andrew reached his desired monthly income through cashflow, his family and close friends started asking him for his help. Andrew recognized the need of financial education in people's lives and created his "Financial Momentum" educational company to teach others his proven Real Estate Formula to Create Change, Create Capital, and Create Cashflow so they too could gain financial momentum in their lives and enjoy true financial freedom. Read More >>

Chris Bowser has bought and sold several million dollars worth of goods on the Internet over the last 8 years. Chris has created a system on how to teach new and experienced eBay sellers how to create an Internet business by working minimal hours. He has hundreds of successful students who have created an Internet business and exploded their wealth and can help you do the same. Read More >>

Duncan Wierman is known by many as "Mr. Lead Generation". Duncan is the world's foremost real estate lead generation strategist. Forget investing the old fashioned way when you can let modern day technology do all the heavy lifting! Today, savvy investors are using cell phones, iPads and laptops to rake in huge profits and you can too! Read More >>

Dustin Griffin is the Executive Director of Atlanta REIA and Tampa REIA and is also an entrepreneur, real estate investor, website developer, internet marketing enthusiast and a husband and proud father of two. Dustin specializes in creating and using web-based systems to manage, market and automate his real estate investing business and he helps other investors do the same so they can work smarter and not harder to make more money in real estate. Read More >>