There's An App For That Workshop with Don DeRosa on March 10, 2018
Posted on February 23, 2018 by
Sat, March 10th at 9AM – Tampa, FL
Tampa REIA Presents the BRAND NEW
There's An App For That
Nothing But Apps For
Active Real Estate Invstors
A Full Day Real Estate Technology Workshop with Don DeRosa
Saturday, March 10th from 9AM – 6PM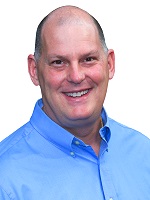 It's a GREAT time to be a real estate investor. But if you want to be the most effective, competitive, profitable investor, you need to "Let Technology Do the Work for You!"
Join us on Saturday, March 10th at 9AM at Doubletree Suites Tampa Bay, 3050 North Rocky Point Dr West, Tampa, FL where you will learn to do just that. Don will be showing you how he runs his entire business completely paperless, using nothing but mobile devices.
Don will teach you how to fully leverage your investments in any mobile device that you own, such as tablets and smart phones.
He will teach you how to take your business with you wherever you go; have all your comp's, photos and forms right in the palm of your hands!
Here are a few examples of what's waiting for you…
How to use your devices as your central communication hub.
How to use the cloud to store all of your data so you never waste time looking for STUFF again.
Run your entire office using apps such as Scanner Pro, Excel, Word and PDF Expert and a whole lot more.
Take notes, inspections and write contracts multiple ways so you never have to print anything ever again.
How to perform ALL of your due diligence such as comps, evaluations, computations, research and demographics all while still in the driveway of the home.
Productivity apps to access files, data and info from anywhere.
Improve your rehabs with apps that assist in design, measurements and color choices.
Property management apps that assist with collecting rent payments, move-in / move-outs and tracking leases.
Track expenses and get rid of all those paper receipts and never manually log miles ever again.
And many, many more plus answers to your questions…
So if you want to take your business to the next level this is the MUST attend event of the year. Never again look at paper the same way. Please join Don DeRosa on March 10th from 9AM to 6PM for the "There's An App For That Workshop" being offered for the first time in Tampa!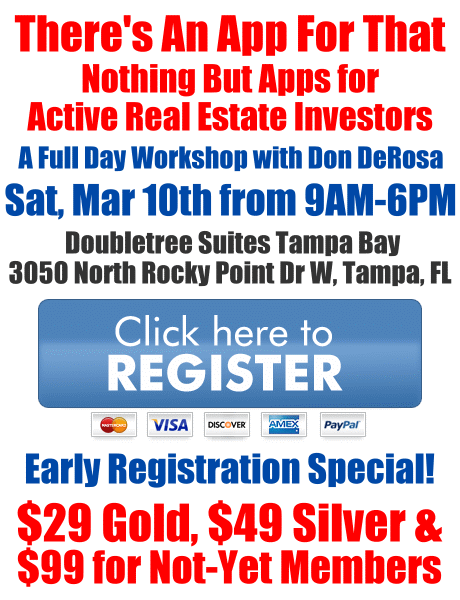 *PLEASE NOTE: Non-Members who Join Tampa REIA between March 1st through March 8th, 2018 can attend the workshop at no charge. Also, Tampa REIA Members who renew their membership for an additional year between March 1st through March 8th, 2018 can attend the workshop for no charge as well. When Joining Tampa REIA or renewing your membership, please indicate that you want to attend the workshop at no charge. You can Join Tampa REIA at http://membership.tampareia.com.