Wholesaling 101 Workshop with Russ Hiner on July 13, 2013
Posted on June 5, 2013 by
Wholesaling 101 Workshop
With Russ Hiner on July 13, 2012 from 9AM – 5PM
Doubletree Suites, 3050 North Rocky Point Dr West, Tampa, FL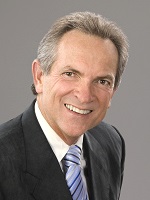 Do you want to play the real estate investing game but don't know where to start? Do you have little or no cash or credit? Want to avoid risk, repairs, tenants and toilets? Want to buy houses with no money?
Wholesaling is a great strategy for making quick cash, low risk, without the use of your credit, income, or money. Wholesaling real estate is among the most popular investment strategies because anyone can do it — you don't need a real estate license or a lot of money to start. And once you start, with a little effort, it's nearly impossible to keep the money from pouring into your bank account.
If you want to learn how to wholesale houses and get paid within 30 days after you put a house under contract, you should consider attending our Wholesaling 101 Workshop with Russ Hiner on July 13th, 2013 from 9AM to 5PM at the Doubletree Suites Tampa Bay located at 3050 North Rocky Point Dr West in Tampa, FL.
At the workshop, Russ will teach you the wholesale strategies you need to succeed and take you step-by-step through the entire process of how to wholesale real estate. All applicable forms and agreements with filled out examples are included.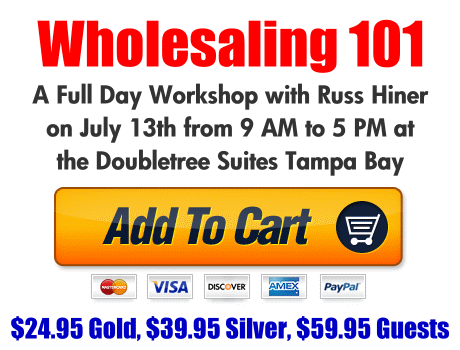 Register for this training session if you want to learn:
How to find the best wholesale real estate deals so you can get them closed quickly.
How to determine deals from no deal. How not to get stuck!!!
How to create a property information sheet to get the largest profit for every flip and assignment you do.
The critical questions to qualify potential buyers and sellers that make all the difference.
What to include in the contracts and agreements to make sure the deal works every time
How to answer the phone when it rings and ask the right questions.
How to structure the deals correctly from start to finish to generate quick cash without risk
The tips and costly pitfalls to avoid when Wholesale houses, real estate wholesaling and doing assignments
How and where to find thousands of buyers without depending on local connections for wholesaling.
Use wholesaling to create cash to pay off those credit card bills, vacation, or buy investment property.
All this and much, much more!
The best part about wholesaling properties is that you don't get bogged down with tenants, toilets, or holding costs. It's all about finding a motivated seller, putting their house under contract and then selling the house to a motivated buyer for instant profit and moving on to your next big deal. Register now and come learn how to get started wholesaling real estate so you can make all your financial dreams come true.