Driving for Dollars and Farming with Flyers
Posted on July 5, 2013 by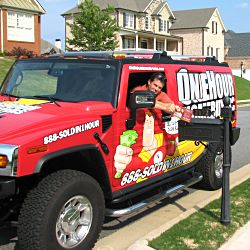 One of our favorite and most cost effective ways to market our home buying business is through the frequent use of flyers. In fact, flyers are one most versatile and low cost forms of advertising we use to generate leads on a regular basis.
Flyers can be used in a variety of formats such as handouts, posters, mini bandit signs, over sized business cards, postcards, free reports, brochures, door hangers, newspaper inserts, tear off flyers, etc.
We like to use full size 8.5" x 11" (or 9" x 12") or half size 8.5" x 5.5" (or 8" x 6"), double sided, full color, UV coated, card stock flyers for our ongoing marketing efforts. We can get 5000 of these full color, double sided, UV coated, 9" x 12" flyers for $480 or .096 cents each. We can also get 5000 of the same flyers in 8" x 6" size for only $190 or .038 cents each! This can give us a lot of bang for our buck, depending on how we use these flyers.
When it comes to using these flyers, there are many ways to distribute them. Two of our favorite distribution methods are "Driving for Dollars" and "Farming".
Driving for Dollars simply means to grab a stack of flyers, drive around neighborhoods and flyer houses you'd like to purchase. These houses could be For Sale by Owner, listed with a Realtor®, For Rent, vacant or whatever types of houses you choose. You could put your flyers on the mailbox, in the driveway, on the front door or the garage door. While you're at the house, you can snap a photo or two, write down the address and a phone number too, if one is available, for future follow up by phone or direct mail.
Driving for Dollars is, by far, one of the cheapest, easiest and most cost effective ways we use to get fast, targeted results using flyers. Driving for Dollars is a perfect example Direct Marketing at its finest since we are able to target and market directly to sellers who have homes for sale right now in neighborhoods where we want to buy.
Farming is when you, or someone you hire, distributes flyers to every single home in a neighborhood where you want to buy houses, over and over again, to generate leads and continuously build your brand as a serious homebuyer in your area. The goal is not only to market directly to the sellers with homes for sale now, but to also build rapport and credibility among all the other home owners whose house isn't for sale yet. The idea is to get current sellers to call you now and future sellers to call you first when they are finally ready to sell.
Farming has been a very effective marketing method for us since the sellers with homes currently for sale call or visit our website as do many of the people who are "thinking" about selling (the shoppers) and haven't listed their homes for sale yet. Farming is an excellent example of Mass Marketing since you are advertising to everyone in a neighborhood where you want to buy homes even though only a dozen homes may be for sale at any given time. You can get quite a few referrals this way as well, especially if you mention a finder's fee on your flyers.
Thoughts to Ponder When Using Flyers:
What types of flyers will you use to market your business?
What size, color and type of material will you use for your flyers?
What marketing message will you use on your flyers?
How will you capture the leads your flyers generate?
How many times must you flyer someone's house to get them to respond?
How much will your flyers cost to have printed?
Where will you distribute your flyers?
How much will your flyers cost to distribute?
How often will you flyer the same house or neighborhood?
How will you track the leads your flyers generate?