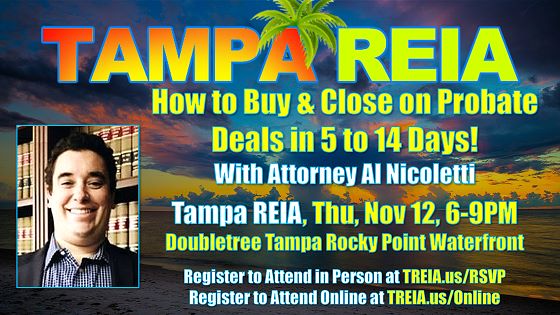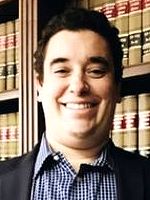 TAMPA REIA is BACK LIVE & IN PERSON on Thursday, November 12th from 6PM to 9PM at the Doubletree Tampa Rockypoint Waterfront located at 3050 North Rocky Point Dr. West in Tampa, FL. We will also be doing our best to Broadcast Live to those that cannot attend in person.
Our special guest speaker this month is Attorney Al Nicoletti who will be teach you how to buy and close on probate properties in 5-14 days!
At the meeting, Al will be covering topics such as…
Everything you need to know about Florida Probate Real Estate
Getting Probates done in 5-14 days!
Diving into the secrets that make probate real estate an ultimate success story
Probate Success Stories
Full Q & A Session
Pre-Probate & Probate Leads presented by Foreclosuresdaily.com
There are two ways to attend this event…
Register to Attend in Person at TREIA.us/RSVP – For your safety and the safety of others, please bring a facemask to wear if you plan on attending in person.

Register to Attend Online at TREIA.us/Online – After you checkout using this link, be sure to immediately register for the Tampa REIA Webinar on Zoom.
Al Nicoletti is an attorney at the Buschman, Ahern, Persons and Bankston law firm on Jacksonville Beach. It is the longest continuous serving law firm on Jax Beach. They started in the 80s and 90s primarily doing title closings all over Jax Beach, Ponte Vedra and St. Johns County. In 2010, the law firm transitioned out of title closings to Estate Planning (Wills Trusts, Power of Attorneys, Lady Bird Deeds, Etc.), Probate/Probate Litigation, sophisticated Real Estate litigation and specialized Personal Injury.
BAPB no longer does any title closings. Instead, they KILL IT on Florida Probate. They actually go to the Courthouse to a see Judge and will do it to achieve the problem solving solution. They will also try cases to Jury Trial. Al joined the prolific BAPB law firm in August 2018, bringing a massive niche of Probate Real Estate, and a background in Foreclosure Defense Litigation from Miami, Florida.
RSVP NOW and come network with us and learn all about probate investing. Bring your masks and bring your questions to ask the expert! We hope to see you there in person or online!
*Please Note: Meeting agenda is subject to change.

At 6:00 PM in the Main Lobby, we have a Vendor Trade Show that lasts throughout the meeting where you can come out and meet many of our participating Business Members and Vendor Guests who help sponsor our meeting.
Vendor tables are limited, so any vendors wanting to reserve a table for the meeting can RSVP for a Vendor Table here. Vendor tables are reserved and setup on a first-come, first-serve basis.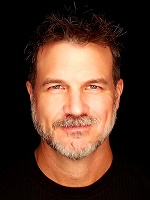 Starting at 6:30 PM, Dustin Griffin kicks off the Tampa REIA Main Monthly Event with updates and announcements. Dustin covers what's happening at Tampa REIA in the upcoming weeks and months such as upcoming workshops, webcasts, special events, members benefits and much more!
At a little after 6:45 PM, we will be having the Haves & Wants Speed Marketing Session which gives our members the opportunity to quickly market deals they HAVE and to find deals they WANT. We also give our business members the opportunity to get up and say a few words about their businesses. Members who want to participate in the Haves & Wants Marketing Session must bring your flyers and get to the meeting early to get on our list of participants.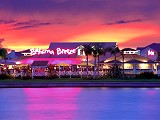 After the conclusion of the Tampa REIA Main Meeting (around 9:30PM), we will be reconvening at Bahama Breeze located at 3045 N Rocky Point Dr E in Tampa for the "Meeting after the Meeting" with Tampa REIA Crew. Come eat, drink, network and have fun with us as hang out late into the night on Tampa Bay!