Savvy Investor Networking Meets on March 15, 2018
Posted on March 13, 2018 by
Wed, Mar 14th @ 6:30PM at Del Frisco's Westshore
(NEW!)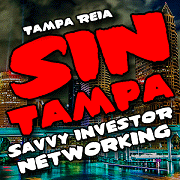 Savvy Investor Networking (SIN) is a brand new Tampa REIA Networking Subgroup that meets on Wednesday, March 14th (2nd Wednesday) from 6:30PM to 9:30PM at Del Frisco's Grille located at 4138 W Boy Scout Blvd in Tampa (Westshore) near the airport. SIN is hosted by Dustin Griffin, David Minor, Denise Brown and Tangie Cousins.

Your Network is Your Networth!
The entire purpose of Savvy Investor Networking is to bring that Beach REIA vibe to the Tampa Bay Real Estate Investing Community together in a fun, festive environment where we can network, discuss real estate opportunities, share resources, brainstorm ideas, ask questions, get answers and figure out additional ways to support one another, our community and all make more money.
Invite your friends and co-workers and be sure to bring your business cards, your flyers and come prepared to promote yourself, your deals and your business!