Tampa REIA Fishing Charter on November 12, 2016
Posted on November 1, 2016 by
Sat, Nov 12th in Clearwater, FL
Tampa REIA Fishing Charter
Saturday, November 12, 2016 from 9AM to 5PM
Call 727-446-7666 to RSVP
for Only $82 for Full Day!
Tell Them Your with

Tampa REIA
ONLY 23 Spots Left on Boat.


Call Now to RSVP!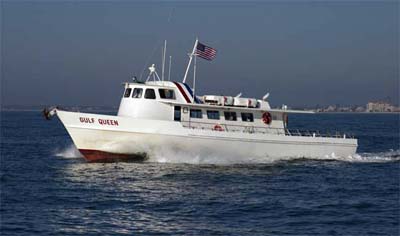 Price includes: Fishing Charter on a 75 foot Boat from 9AM to 5PM. Rod, Reel, Bait and Fishing License. Food, drinks and Snacks are sold separately on the boat. Parking is $6.00 extra for full day.
Get There by 8AM: You should arrive by 8AM at the latest. Some of us are meeting there at 6AM to reserve a spot on the back of the boat. You must come early to reserve a spot on the back of the boat as well since we cannot save spots. If you arrive late, the boat will not wait.
Breakfast @ 7AM: We are all going to have coffee and/or breakfast at the Salt Cracker Cafe at 7AM which is a couple of buildings down in the Marina Building.
BYOB: You can bring a cooler on the boat with beer but in Cans ONLY no glass bottles and your own food if you wish.
What We Can Catch: GAG Grouper, Red Grouper, Sea Bass, Mackerel, Hog Fish and Snapper among other fish as well.
Bait: The bait that is provided is cut bait and sardines. You may purchase extra bait before you enter the boat but you must bring your own aerated bait bucket if you plan to do that.
Sea Sickness: We will be going out 15 – 25 miles and would suggest you get some Dramamine pills, a wrist band or Ginger Pills if you get sea sick.
Get Together After Fishing: At the end of the trip we will go down to either Cooter's, Crabby Bills or back to the Salt Cracker Café so they can cook up our catch of the day!
Special Thanks: We want to offer special thanks to Tangie Cousins of Foreclosures & Probates Daily for putting this Fishing Charter together for us. Thanks Tangie!
Call Queen Fleet Deep Sea Fishing
at 727-446-7666 to RSVP
for Only $82 for Full Day!
Tell Them Your with

Tampa REIA