101 Plus Ways to Generate Motivated Buyer & Seller Leads Workshop
Posted on August 5, 2013 by
Sat, August 10th @ 8:30 AM in Tampa, FL
101 Plus Ways to Generate
Motivated Buyer & Seller Leads
A Full Day Workshop with Dustin Griffin on August 10th
From 8:30AM – 5PM in Tampa, FL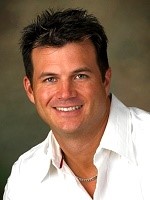 Join us in Tampa on Saturday, August 10th at 8:30 AM at the Doubletree Suites located at 3050 N Rocky Point Drive West in Tampa, FL for to learn "101 Plus Ways to Generate Buyer & Seller Leads" for your real estate investing business.
Dustin Griffin is going to teach you many of the 800 Pound Guerilla Marketing Strategies and Techniques he and other successful investors use to generate all the buyer and seller leads they can handle on a low budget and how you can too.
He is going to teach you how you can totally dominate your local competition with little effort and a relatively low budget using new and traditional marketing techniques, a little creativity and the power of the Internet.
Be sure to bring a pen and paper to take lots of notes as well as at least 5 to 10 examples of what you are currently doing to market your business to share with the class. The more examples we have to share, the better!
Upcoming Workshop Dates
August 10, 2013 – Tampa, FL
August 17, 2013 – Orlando, FL
August 31, 2013 – Atlanta, GA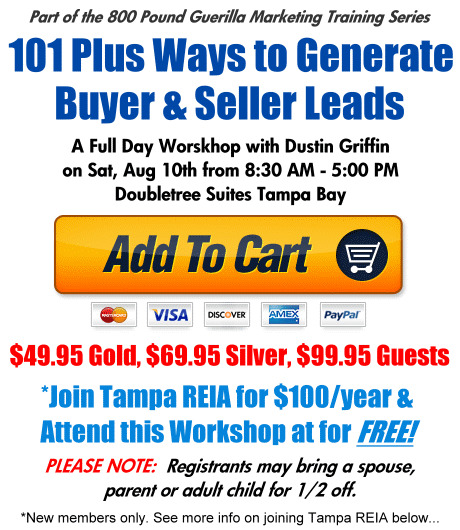 *PLEASE NOTE: Attendees of the April Workshop may repeat this event for 1/2 off by using this Special Registration Link. Registrants may bring a spouse, parent or adult child for 1/2 half off during the Early Registration Special. Non-Members who Join Tampa REIA for the first time by August 9th may attend for FREE! Just be sure to let us know that you want to attend this event at no charge after you join. After the Early Registration Special expires, prices will increase and repeat attendees, spouses, parents and adult children will be full price, so Register Now and Save!
What Some of Our Attendees Said…
"I loved all the marketing examples. Dustin is the bomb! :)" ~ Ruth R.
"Excellent workshop with a lot (whole lot) of great content. Dustin put a lot of work into the presentation. Excellent coverage of all the items." ~ E. Ohuche
"Overall an excellent class with great information presented very well. All the information was very helpful. :)" ~ Sabrina C.
"Dustin is very knowledgeable and a great teacher. I learned a lot!!!" ~ R. Marshall
"The teacher Dustin Griffin is very thorough with his information. We all feel like we were fed with a firehose. :)" ~ J. Rexford
"Overall Dustin is a great real estate investors. Very knowledgeable and has a great command of marketing both offline and online. He is of great value to new and experienced investors because of the importance of cost effective marketing and internet marketing." ~ Emeka O.
"The mass amount of information gives me a lot of new ideas for marketing. I could not take notes fast enough! :) I highly recommend for anyone that is interested in real estate investing if you are brand new or a seasoned investor." ~ T. Young
"Dustin really got me motivated to go out and generate more leads. I took seven pages of notes in addition to all the handouts he gave us. I can't wait to implement some of the strategies to get the leads pouring in." ~ Stephen M.
"As a new investor, knowing where to start can be confusing and intimidating. However, after this training workshop, I am confident and ready to get started wholesaling my first deal! I was given more than enough information to get started marketing to find buyers and sellers as a new investor." ~ S. Pharms
"Dustin created a learning environment that boosted my desire to relentlessly pursue closing our first deal. Dustin is very knowledgeable and makes me feel that I can do real estate investing on a shoestring budget and still achieve success." ~ T. Stovell
"I liked the speaker and the way the information was presented. Dustin rocks, really rocks!" ~ O. Anserson
"The workshop was very detailed. Lots of very useful information!" ~ H. Khan
"Lots of great marketing ideas" ~ Steve K.
"The workshop was very comprehensive regarding lead generation subject matter." ~ Richard H.
"I really enjoyed teaching this class a lot. I love marketing and love sharing a the various marketing strategies, tips, tools and tricks that I and other successful investors have used to generate all the motivated buyer and seller leads we can handle. I really enjoyed all the class participation and all the examples they shared. Thank you so much for participating!" ~ D. Griffin