FREE Online Lead Finder Software Version 2.2.3.3 from Duncan Wierman
Posted on April 17, 2013 by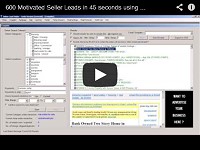 I just wanted to let you know that Duncan Wierman just sent me an updated copy of his Online Lead Finder Software Version. As of today, 4/17/2013 he is up to version 2.2.3.3 since he is always working to improve the software. This is the same software we talked about at the Marketing Workshop we did in Tampa on April 13th.
PLEASE NOTE: If you already installed any previous versions of Online Lead Finder, be sure to UNINSTALL it before installing this new version.
Because of our relationship, Duncan has given me permission to give this incredible software away for FREE to our Tampa REIA Members! Thanks Duncan!!!
The Lite Edition is FREE for all Tampa REIA Members and will collect up to 25 leads per day off many popular internet sites.
The Gold Edition (AKA Turbo Edition), which is a $500 value, is FREE for Tampa REIA Gold Members Only and will collect an UNLIMITED number of leads per day.
If you are an Tampa REIA Member, login to the Tampa REIA Members Only Website first and then navigate to Members Only Downloads & Bonuses page where Duncan's Online Lead Finder Software is listed 2nd in the list of available member downloads.
If you are a Gold Member, there will be instructions in the ReadMe.txt file in the software download telling you how to activate the Unlimited Gold Edition at no charge.
I hope you all enjoy this lead generation software. Duncan, thank you again for this amazing software!