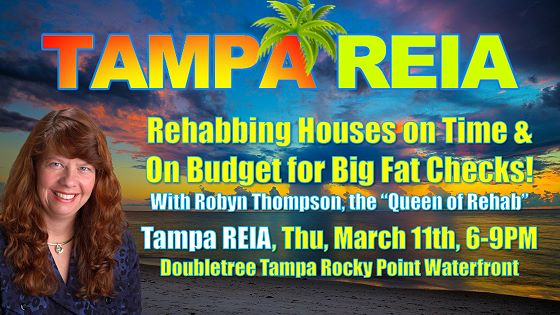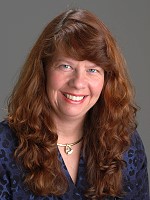 TAMPA REIA is BACK LIVE & IN PERSON on Thursday, March 11th from 6PM to 9PM with Robyn Thompson at the Doubletree Tampa Rockypoint Waterfront located at 3050 North Rocky Point Dr. West in Tampa, FL. We will also be doing our best to Broadcast Live on Zoom Webinar to those that cannot attend in person.
Did you know that the one of the biggest challenges that most real estate investor face is they don't know how to locate a high profit deal that they can buy at a discount and then fix it up and sell it for more.
Yes this is true. It is the number one problem that stops most investors in their tracks. Marketing to find high profit deals is the most critical step that a real estate investor must learn if they want to wealthy.
The sad part is the lack of knowledge of how to locate high profit deals has put many a real estate investor out of business. Now don't climb out on a ledge just yet, because I have some great news!
Our dear friend, Robyn Thompson is our guest speaker at Tampa REIA on March 11, 2021. She is the nation's leading expert on buying, renovating and selling homes for huge chunks of cash and is known throughout the United States and Canada as "The Queen of Rehab".
Robyn is one of the best marketers I know for finding motivated sellers and she is always willing to teach students her strategies for making massive profits rehabbing houses.
Robyn will be sharing her strategies on: 1) How to find the profitable homes that need renovated, 2) How to deals even if you have little or no money to start with, 3) How to find and control the contractors to get the job done and 3) Selling houses quickly for huge chunks of cash.
Over the past two decades, Robyn has bought, fixed and sold 450+ homes with price ranges as low as $8,000 to as high as $3,500,000. She has spent as much as $2,100,000 in labor and materials in one year to renovate properties with more than 22 contractors working full time to take the unwanted homes she bought and turn them into little castles at lightening speed.
Robyn has taught thousands of students throughout the United States how to become financially independent. She has shared the stage with Donald Trump, Dr Phil, Mark Victor Hansen, Ron LeGrand, Marshall Sylver & many more legends. Robyn uses her success in the real estate business to help those less fortunate.
Robyn presents the most up to date strategies for buying low and selling high to ensure large profits and that is why she is one of the most high demand speakers in the nation. So RSVP for Tampa REIA and come rehabbing from the best!

SPECIAL BONUS CD FOR ATTENDEES: Are you having trouble finding profitable deals? Are you having contractor issues? Do you want higher profits on your rehabs? If you answered YES to any of these three questions, then be sure to attend the Tampa REIA Meeting in person where Robyn will be giving away her cutting edge informational CD entitled "The 21 Deadliest Mistakes that Real Estate Investors Make" while supplies last.
BTW, we have convinced Robyn to not only speak at Tampa REIA on Thursday, March 11th, but to also come back and do an Action Packed, 2 Day Training Weekend on March 20th & 21st, 2021 for our members and guests called the Rehabbing Houses & Vacation Rental Workshop! Register for the Workshop Now or the meeting below.
*Please Note: Meeting agenda is subject to change.

At 6:00 PM in the Main Lobby, we have a Vendor Trade Show that lasts throughout the meeting where you can come out and meet many of our participating Business Members and Vendor Guests who help sponsor our meeting.
Vendor tables are limited, so any vendors wanting to reserve a table for the meeting can RSVP for a Vendor Table here. Vendor tables are reserved and setup on a first-come, first-serve basis.


Foreclosures & Probates Daily – We are a nationwide lead provider for Investors, Realtors and Attorneys. We provide leads to suit your real estate needs such as Probates, Pre Probates, Inheritance, Lis Pendens, Auctions, Absentee Owners, Tax lates and Cash Buyers just to name a few. Call Tangie at (813) 563-0005 Ext 2 for a FREE Demo! Read More>>

EquityPro Tampa Bay – A niche real estate brokerage specializing in investment real estate. Our team's primary focus is to help you identify properties that get you closer to your investment goals. Whether you are looking for rental properties, flips, just starting out, or you have purchased multiple properties, our team of Advisors can help. Read More>>

JM Real Estate Capital – Helping real estate investors fund their real estate projects. Whether you're looking to fix & flip or start a full scale real estate project, JM Real Estate Capital is your go to supporter. Have a question for our team? We're ready and happy to help. Read More>>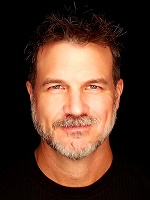 Starting at 6:30 PM, Dustin Griffin kicks off the Tampa REIA Main Monthly Event with updates and announcements. Dustin covers what's happening at Tampa REIA in the upcoming weeks and months such as upcoming workshops, webcasts, special events, members benefits and much more!
At a little after 6:45 PM, we will be having the Haves & Wants Speed Marketing Session which gives our members the opportunity to quickly market deals they HAVE and to find deals they WANT. We also give our business members the opportunity to get up and say a few words about their businesses. Members who want to participate in the Haves & Wants Marketing Session must bring your flyers and get to the meeting early to get on our list of participants.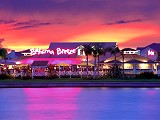 After the conclusion of the Tampa REIA Main Meeting (around 9:30PM), we will be reconvening at Bahama Breeze located at 3045 N Rocky Point Dr E in Tampa for the "Meeting after the Meeting" with Tampa REIA Crew. Come eat, drink, network and have fun with us as hang out late into the night on Tampa Bay!